Main
Foodpairing
Grilled sea bass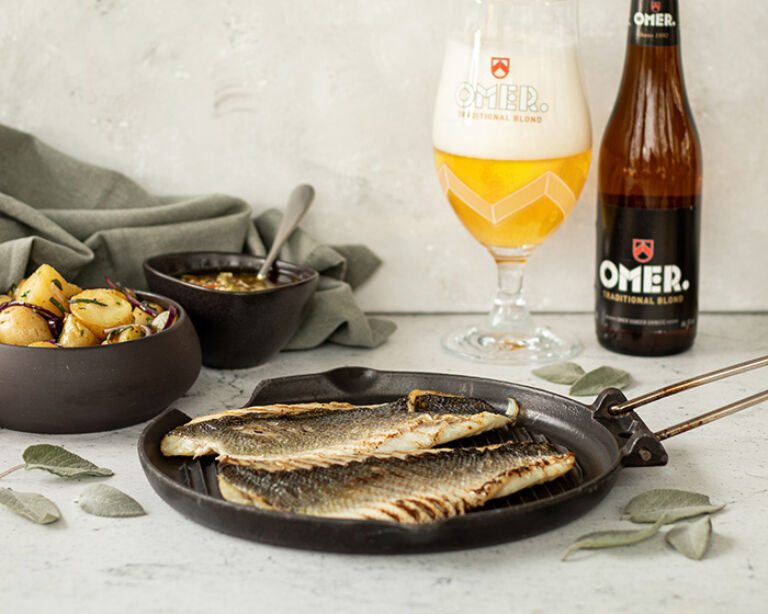 With confit potatoes, red onion and sage in OMER. based vinaigrette.
Ingredients
4 sea bass fillets
500 grams of baby potatoes
2 red onions
1 bunch of sage
50 gr dried tomatoes
50 gr pine nuts
50 gr capers
1 shallot
200 gr peanut oil
200 gr olive oil
5 cl OMER. Traditional Blond
Juice of 1 lemon
Pezo
Preparation
For 4 persons
Grill the sea bass on a hot grill, rub a little olive oil on the sea bass before grilling.
Cut the potatoes in half and place on a baking tray. Season with salt and pepper and plenty of olive oil. 20 minutes in an oven at 160° C.
Cut the red onion into strips and cook for a further 20 minutes with the potatoes. Add finely chopped sage for the last 5 minutes.
Roast the pine nuts in a dry pan for one and a half minutes.
Mix in a blender: pine nuts, capers, dried tomatoes, olive oil, peanut oil and shallot. Do not blend too finely. Season with OMER., pepper and salt and juice of lemon.
Place the sea bass on the potatoes and red onion, finish with the vinaigrette.
Pour a fresh OMER. Traditional Blond and enjoy this food pairing!