Main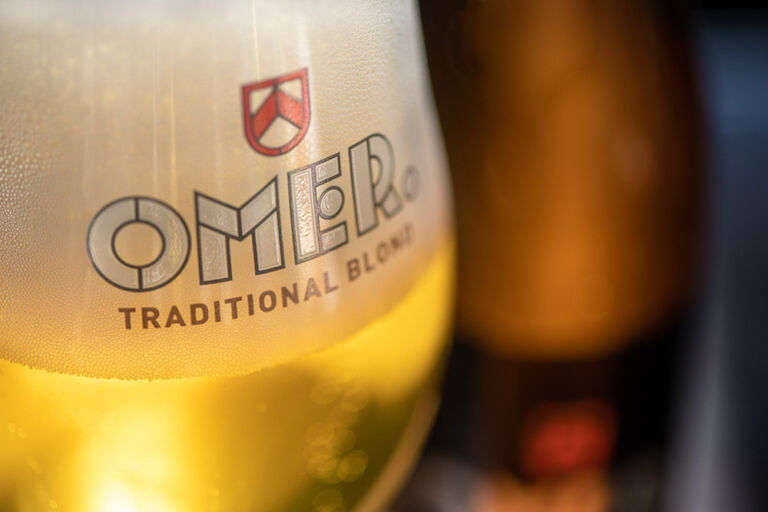 General
Why is OMER. written like this?
On the authentic stained glass windows, OMER. was always written with a point at the end. This was explicitly done this way to emphasize that it was the brand name of his beers. So the logo on the label is a clear reference to the stained glass windows and the unique family history of the brewery.
Cookie policy
Storing
What are the best storing conditions for OMER.?
Bottles must be stored upright in a dark area, on a temperature below 15°C. Drink OMER. as fresh as possible.
Storing
What is the shelf life of OMER. Traditional Blond?
OMER. Traditional Blond has a maximum shelf life of 18 months. However, we recommend drinking this beer as fresh as possible!
General
Why is there a red shield in the logo?
The red shield in the logo of OMER. Traditional Blond is a reference to the coat of arms of Kortrijk. (Bellegem is a part of Kortrijk)
General
Is OMER. available on tap?
OMER. is only available in bottles of 33cl and 75cl. Kegs are not available for this beer.
General
I want to sell OMER. in my café, restaurant,... Where can I get glasses and other promotional items?
If you want to sell OMER. in your catering business, please contact us on sales@omer.be
All general promotional items are available for sale on www.omershop.be
General
How do I pour the perfect OMER.?
OMER. needs to be poured in a clean and dry glass. Open the bottle, pour under an angle of 45°. Stop pouring when the foam collar is at 1 cm from the edge of the glass. According to your personal taste, leave 1 cm of beer in the bottle (the lees) or empty the bottle completely. Watch the instruction video here!

General
How can I safely remove the cardboard clip from my set of 4 bottles?
The best way to open your cardboard clip of 4 bottles, is by cutting it open with a pair of scissors.

General
I saw a bottle of OMER. with a 'Trappist' logo.
The bottles that are used by some Trappist breweries, are almost identical to the bottles used in our brewery. The only difference is a small reliëf drawing in the glass with the Trappist logo. Sometimes, this bottle is not filtered out by our inspection machine. Don't worry, the bottle has been inspected on all other aspects (such as sterility, hygiene,...), and is completely safe. The beer in the bottle is an OMER. with the same high quality as all the other OMER. bottles. Cheers!