Main
Foodpairing
Salmon teriyaki with rice noodles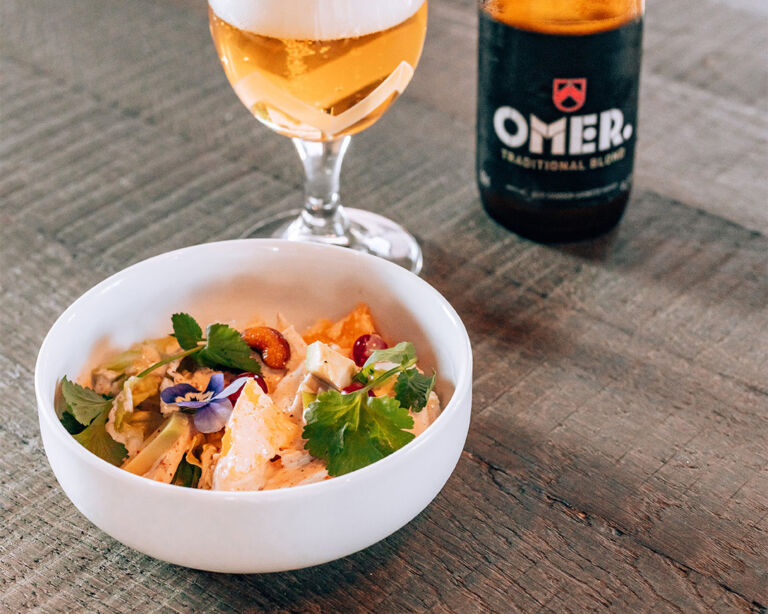 Ingredients
1.5 finely crushed garlic clove
1 tbsp vegetable oil
5 finely crushed cloves of garlic
600 grams salmon fillet
4 tbsp rice vinegar
300 gr rice noodles
2 tbsp sesame oil
1 large pak choi, washed and finely chopped
4 tbsp soy sauce
Handful of soy beans
4 tbsp cane sugar
2 spring onions
1 tbsp honey
Handful of cashew nuts
1 tbsp honey
Preparation
For 4 persons
Mix all the ingredients for the teriyaki sauce: ½ clove of garlic, 4 tbsp rice vinegar, 1 tbsp sesame oil, 2 tbsp soy sauce, 4 tbsp cane sugar and 1 tbsp honey.
Allow the salmon fillets to marinate in the sauce for around 20 minutes.
Cook the rice noodles in salted water until tender, drain and set aside.
Heat the wok with some sesame oil, add the garlic, chopped pak choi, cashew nuts and soya beans and stir well. Then add the rice noodles and soy sauce.
In the meantime, heat a pan with some oil and place the marinated salmon fillets in it. Briefly fry the salmon on each side. The salmon may still be a little raw inside.
Pour the rest of the marinade into the wok with the rice noodles and mix well.
Pour a fresh OMER. Traditional Blond and enjoy this food pairing!