Main
Pulled Chicken Burger with OMER.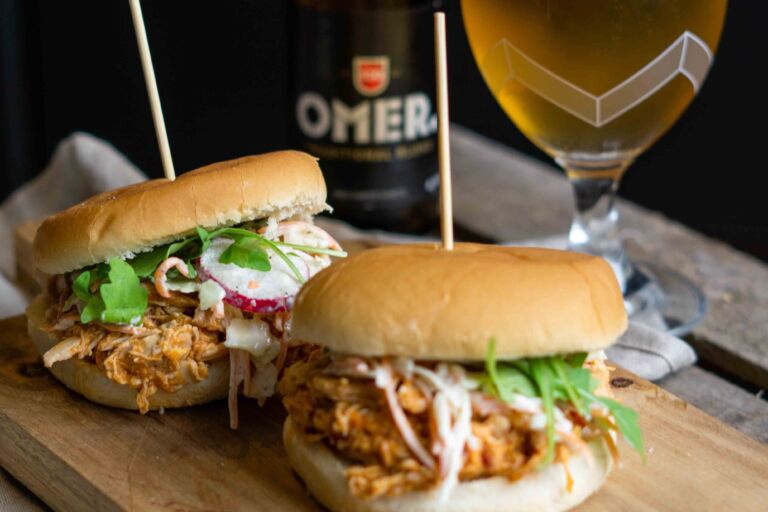 INGREDIENTS
500g chicken breast (for softest chicken: chicken drumstick)
Chicken stock
1 onion
1 clove of garlic
A splash of OMER.
2 tbsp. tomato paste
1 chicken stockpot
50g ketchup (50% less sugar) (+ optionally 1 or 2 tbsp BBQ sauce)
1 tbsp worcestershire sauce
1 tbsp cider vinegar
1 tbsp mustard
Spices (pepper, salt, smoked paprika, cumin, chili)
4 soft burger buns
150g white cabbage grated
150g grated carrot
2 tbsp yoghurt plain
1 tbsp mayonnaise
1 tbsp lemon juice
Handful of arugula lettuce


PREPARATION
For 4 persons:
Bring plenty of water to the boil with chicken stock. Boil the chicken fillets in it for about 12 minutes. Note: the chicken must not be too dry, so do not overcook.
Peel and chop the onion and garlic. Braise the onion and garlic and add the tomato paste.
Deglaze this mixture with a dash of Omer. then add the chicken.
Add a cup of the cooking liquid from the chicken and melt the chicken stock in it. Simmer for a few minutes on medium-high heat. Also add the ketchup (and BBQ sauce), Worcestershire sauce, cider vinegar and mustard. Season well with salt, pepper, paprika seasoning (preferably smoked), chili and cumin).
Simmer for a few more minutes until creamy.
Grill the burger buns briefly and top with some BBQ sauce, place the pulled chicken on top, then some cabbage-carrot salad and a few arugula leaves.
Serve with a delicious OMER.
Cheers!
This recipe was developed by Charlot Pauwels from Cook a Lot by Charlot