Main
Foodpairing
Duck breast with tarragon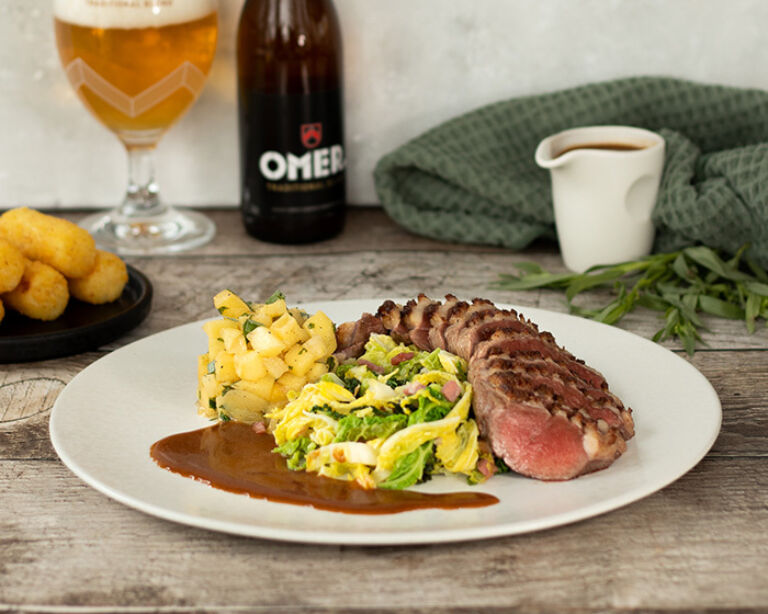 With in OMER. stewed apples, green cabbage, bacon and croquettes
Ingredients
3 duck breasts
Pinch of salt and pepper
Pinch of nutmeg
1 bunch of tarragon
1/2 OMER. Traditional Blond
1 tbsp sugar
1 green cabbage
200 gr smoked bacon
2 jonagold apples
5 Dl veal stock
2 tbsp gastrique
4 tbsp butter
20 croquettes
Preparation
For 4 persons
Cut a grid in the fat of the duck breast and season with pepper, salt.
Fry the duck breast for 3 minutes on the skin side without fat, the fat of the duck will melt.
Turn the duck over and fry another 4 minutes on low heat on the other side. Remove the duck from the pan and let rest under aluminium foil.
Cut the apples into 1 cm cubes and put them in the same pan with the glaze. Sprinkle with sugar and let caramelise.
Deglaze with OMER. and leave to simmer for 2 minutes, finish with finely chopped tarragon.
Put a knob of butter in a large pot, cut the green cabbage into fine strips and stew them in the butter, season with pepper, salt and nutmeg. Add the bacon and leave to simmer for 8 minutes under cover.
Cut the duck into thin slices, arrange it over the green cabbage and finish off with the apples.
Add the veal stock, gastrique and chopped tarragon and reduce by half.
Mount the sauce with lumps of cold butter.

Pour a fresh OMER. Traditional Blond and enjoy this food pairing!