Main
Foodpairing
GEBAKKEN LAMSRUGFILET MET VERGETEN GROENTEN, KRIELAARDAPPELTJES EN CHIPS VAN TOPINAMBOER, AFGEWERKT MET LAMSJUS EN CRÈME VAN OMER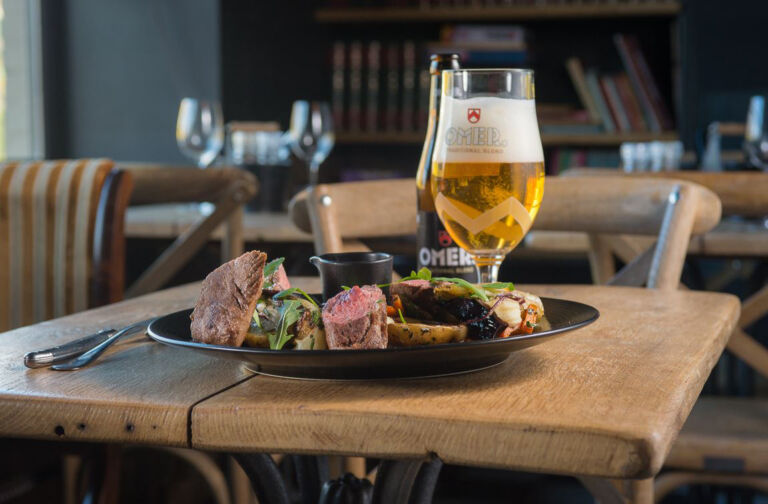 INGREDIENTS
2 parsnips
1 butternut
200 g young princess beans
1 shallot
1 kg red baby potatoes
250 g oyster mushrooms
A jar of lamb gravy
3 dl cream
50 g bacon
15 cl OMER. Traditional Blond
125 g grated emmental
1 kg fillet of lamb
1 clove of garlic
Fresh thyme
Rosemary
Pepper and salt
Brown roux
Chips of topinambur
PREPARATION
Peel one parsnip and one butternut, then cut them into sticks about four centimetres long and one and a half centimetres wide. Top the beans. Finely chop the shallot.
Put the new potatoes in cold water, boil them until tender and cut them in half.
Cook the parsnips, butternut and beans until tender and refresh them under cold, running water.
Cut the oyster mushrooms into strips.
Peel the second parsnip and cut about 250 grams of it into small pieces.
Put the cream together with the bacon, parsnip and beer on a low heat and let it simmer until the parsnip is tender. Blend the mixture, add the emmental and place in the fridge. When the mixture has cooled down, blend it into a cream and put it in the piping bag.
Fry the lamb's back fillet in a pan and place it in an ovenproof dish. Preheat the oven to 180 °C.
Pour the lamb gravy into the pan in which the lamb was cooked. Add a clove of garlic, fresh thyme and rosemary. Let the gravy simmer, then season with salt and pepper and thicken with brown roux. Then fry the vegetables together with the small new potatoes and the shallot in butter.
Bake the lamb for about six minutes in a preheated oven at 180 °C.
Heat the sauce and serve.
Pour a fresh OMER. Traditional Blond and enjoy this food pairing!